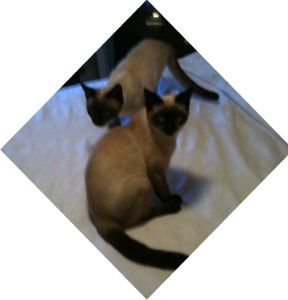 THE GEMINI TWINS
Hi, we're Pollux and Castor, better known as the Gemini twins. Not that we're identical, but we are certainly heavenly. We talk in the plural, because, well, we're like royalty. But nice royalty–the kind you'd invite in for a cup of coffee. We have impeccable house manners (We've been living with a writer. She's a slob, but we are very particular about how we conduct ourselves.  We could give her some tips on housekeeping!)
Our story is kind of sad, but we're hoping for a happy ending. Our mom was a full-blooded Siamese, but when she got pregnant, her owner didn't want her anymore. So they drove her down this long, twisty road in the middle of a wildlife management area and tossed her out. Starving and hungry, she went to the only house around. She wasn't there more than a week before she had us, along with two other brothers. The nice lady who owned the house fed us everyday, but she is very sick. She kept trying to help us by setting up traps; we were too smart for that. Our mom taught us to be wary of humans, because they had hurt her so much.
But the sick lady tried so hard every day, that she finally got us tame enough to put in a carrier so someone could help us, and here we are, looking for a permanent home. We've had our rabies shots and been neutered. And we were wormed, which was an awful experience. Just awful. But we're feeling much better and in just a week have gained a whole lot of weight. We were pretty wormy, I guess you could say.
If you'll give us a permanent home, then Miss Carolyn can go back and get our brothers. While we know we may be separated, we'd sure love to stay together. We play well, but we aren't destructive in the house. We're loving and we purr like crazy when you hold us. And we get along with other cats. We don't mind dogs as long as they don't scare us too much. And just think, how many people can say they have a Zodiac sign living in their home.
Please call 251-649-9456 if you're interested in giving us a permanent home. We're getting the rest of our vaccinations this week, so we are ready to move in and bring all our love to your house.