Another Success Story,
Tabby brothers were placed in forever homes.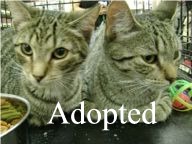 Imagine sitting at your computer or easel. The urge to create is building within you. But nothing comes out. If we could only be there, we could do our magical kitty business and soon the creative process would unblock and the good energy would flow. That's the thing about us felines. We are full of mischief and fun, and that's the best lure for creativity.
But we need a home pronto. Our foster mom can't keep us any longer. There's a family shift, and we can't stay.
We are FIV negative, and we are current on our shots. All we need is you! Please call for us at "Lost Without You" Animal Rescue. Theodore, Alabama at 251-391-0959