My name is Nigel and this is my brother Sledge.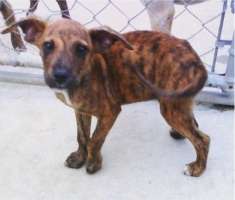 We're only 12 weeks old, and so far, life has not shown us a lot of kindness. The person who owns our mother didn't want puppies, but failed to have Mom spayed. So when we came along (there were three of us, but our  other brother John-John didn't make it) they just threw us in a ditch. We were hungry and confused. And then we got sick. 
John-John was the biggest and he tried to provide for us. He did the best he could, but when he got too sick he just couldn't. And then a good samaritan found us and we made our way to the rescue. Sherry took us to the vet and we found out we had Parvo. Everyone tried so hard, but John-John didn't make it. But Sledge and I are on the mend now.
We've had one round of shots but what we really need is a loving home. We aren't big, and we're very lovable. We'd be so grateful for a loving family. Please consider adopting up. Just call Sherry at 'Lost Without You' Animal Rescue, Theodore, Alabama, 251-391-0959.