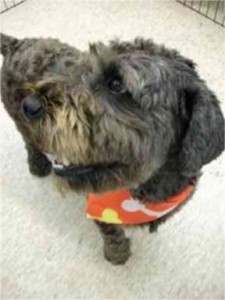 ALFIE 
Call me a Snoodle. Call me a mutt. I don't care what you call me, as long as you call me. My name is Alfie and I'm a two-year-old neutered Poodle/Schnauzer cross (or something of that nature). I'm cute as a button and full of love and energy–I like attention but I have a desire to referee when it gets too rowdy. Because of that, I would be happiest in a home without a lot of commotion.
Because of my breeding, I don't shed much. This is a real plus because in my heart of hearts, I'm a traveling man. I love to ride in the car and go wherever my humans go. I'm very well behaved on jaunts and I'm an easy, loving companion. I'd be perfect with a retired couple who want to hit the road. Or a young person with the wanderlust.
I was in the City of Mobile Animal Shelter, and I was rescued, but my first home didn't work out. In the mode of full disclosure, I have to tell you that I tried to intervene in a fight between two young brothers. It wasn't a wise decision, but I was afraid they would hurt each other. I broke up the fight, too, but my new family thought I'd overstepped the boundaries. Also, because I always tell the truth, I have some kennel anxiety. I can get over this if someone will take the time to work with me.
Anyway, I have all of my vaccinations. I'm ready to find a permanent home. Please call for me. I will bring love, joy–and no doggie fur! Call Sherry at 'Lost Without You' Animal Rescue, Theodore, Alabama,251-391-0959