JUNIOR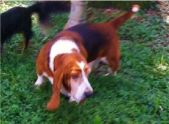 My name is Junior, and I have a tale of broken dreams. Look at my face and read the sorrow. When I was a young whippersnapper (I'm about 7 now), I dreamed of being the poster dog for McGruff. I wanted to take a "bite out of crime." My own trench coat. TV appearances. I have the profile for stardom! And I have all the equipment necessary to solve the toughest cases, because I have a nose for news and the most lovely voice on the planet. Once I tracked the bad guys down, all I had to do was turn on my voice and the criminals would flee and the cops would come a'running.
Life didn't work out that way, though. Instead of a badge wearing basset, I ended up abandoned. I'm neutered and I've had all my vaccinations, and I'm on the twice a month heartworm program because I tested heartworm positive. I need a loving home and some
If there's a place in your home for me,  call Sherry at 'Lost Without You' Animal Rescue, Theodore, Alabama, 251-391-0959.