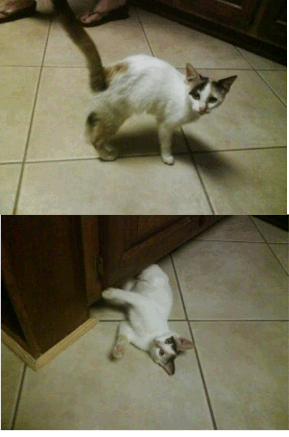 We're the Calico Sisters, and we are full of fun! Let Us Entertain you! We flip, we jump, we purr, and we will make your life so much more fun–if you'll only let us in. First, let me note that we have unusual markings, which is appropriate, because we are rare and unique kitties. The folks at "Lost Without You" rescue have taken us to the vet, and we are spayed and FIV negative. So we're ready to go. All we need is a loving home.
Now it would be wrong if I promised that we'd always be good, but it's true that we sleep about 18 hours a day. So that only leaves 6 hours for frolicking. But what's the point of a kitty that doesn't race around the kitchen floor or try to swat your feet from under the sofa. Soon enough we'll be grown and more sedate, but come and look at us now–while we're full of the verve of youth.
And we look so much alike it's hard to tell which of us is doing what–and that's a lot of fun. If we'd been born human, we would have grown up to be Rockettes, or maybe star in High School Musical. Or Fame. Yeah, Fame. Think of it. We could be your very own little kitty stars.
Call Sherry quick, before someone else lays claim to us. 251-391-0959 in Theodore, Alabama.. Open your heart and your home and you'll get more love than you ever thought possible.