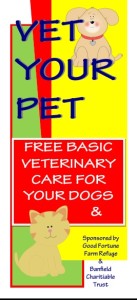 George County
v
eterinarians joined forces with Good Fortune Farm Refuge and the Banfield Corporation for the first successful "Vet Your Pet" program targeting low-income families and their companion animals.
All three vet practices in George County: Magnolia Animal Clinic, George County Vet Clinic, and Singing River Animal Clinic helped a total of 49 pets belonging to 27 owners.
"This was our first grant, and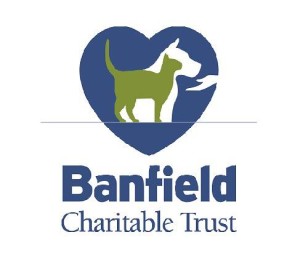 we feel it was very successful," Aleta Beaudreaux, grant writer and secretary/treasurer of Good Fortune Refuge said. "Two vet clinics in Mobile County also participated, and we are thankful to all of the vets who worked so willingly to provide basic health care to local animals."
"We had more calls for help than we had money," Boudreaux said.
Banfield Corporation awarded GFFR a $2000 grant, which the rescue matched, to provide shots, health exams, worming, tests, and in one instance, emergency surgery, for dogs and cats.
"Basic health care can be out of reach for people who are struggling in a slow economy," Jennifer Williamson, president of GFFR said. "We are so grateful to Banfield for giving us resources to help people who truly love their pets but are struggling financially."
The Mobile clinics involved in the grant were Grand Bay Vet Clinic and TLC.
Boudreaux said GFFR will apply for another basic care grant and also for grants for assistance with spaying and neutering. "The real solution is neutering pets," Boudreaux said. "We have to reduce the population growth so that all animals can have a chance at a loving home."
Williamson urged George County residents to talk with the local veterinarians about spay/neuter procedures. "In the long run, neutering a dog or cat is far more cost effective than not. Neutering cuts down on unwanted puppies and kittens along with diseases and illnesses brought on by fighting and wandering," she said.
"This is truly the humane solution to a problem that is only going to get worse. Statistics show that in a case where a female cat reproduces, should all of her offspring live and reproduce, over a six-year period 100,000 kittens can potentially be born from that line. For a dog, it's about 64,000 puppies. A simple surgery can put a stop to all of this," she said.
Boudreaux said if another grant is given, the local residents will be notified with a story in the newspaper.